---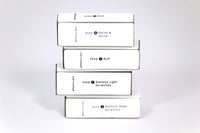 ProCaliber Products™ Surface Repair Scratch Removal & Polish Block
Great for use with all ProCaliber Products Acrylic Repair Material to remove scratches and polish all repairs to a high-gloss finish. Our 4-Sided Polish Block provides Step-by-Step Instructions for removing scratches and blemishes to the Acrylic Repair Material.
Step 1 - Remove Deep Scratches
Step 2 - Remove Light Scratches
Step 3 - Buff
Step 4 - Polish and Shine
Foam Core and Backing allow for a comfortable grip with no hand fatigue and help prevent applying too much pressure. Sold individually or in our Pro-Pack of 20.
Benefits: 
Polishes acrylic surface to high gloss, if desired
Remove scratches on repair material
Foam core for reduced fatigue
4-sided step-by-step polisher
For light scratch removal and polish - for deeper scratches use 54-11-13A Polish Kit