---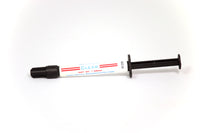 ProCaliber Products Granite & Marble Acrylic Repair Replacement Syringe - Clear LCA Gel Clear Light-Curing Acrylic (LCA)
Suitable for granite, marble and other natural stones. The clear gel material brings out the natural pattern of any color or shade of natural stone eliminating the need for color matching or using dust or chips. Gel consistency and micro tips allow for use in small spaces and with little waste.
Contains:
(1) 1-gm Clear LCA Gel Applicator
(2) Micro-Tips
Only intended as a replacement or extra material - does NOT contain curing light, curing strip, sandpaper, polish, microfiber cloth or instructions.