---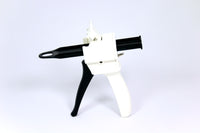 Sale
ProCaliber Dispensing Gun Kit for 50ml Epoxy & Adhesive Cartridges (1:1 & 2:1 Ratios).
Professional Industry standard dispensing gun for 50ml double-barrel cartridges
No-Drip design
Impact Resistant Hardened Plastic body
Lightweight & extremely durable

Hardened Plastic body, lightweight & extremely durable

Works with all Type-S or Type-A Square-Back Cartridge - 

and All 1:1 and 2:1 cartridges from Loctite EA (Hysol), Devcon Dev-Packs & Mark5, Huntsman Araldite 2000+ Gorilla Epoxy, and all other brands that use the standard square-back 50ml cartridge types and 1:1 cartridges from 3M Scotch Weld

Not

for use with 3M offset 37ml 2:1 ratio cartridge
Dispenser Includes one integrated dual-ratio plunger, that works for both 1:1 and 2:1 ratio cartridges.
Use with our DSP-50ml Mix Tip for a perfect mix ratio.
This Dispenser includes the mixing gun and one integrated 1:1 and 2:1 ratio plunger.

Not

for use with certain Dental adhesive cartridges - please use our Dental Dispensing Gun
The single plunger fits both types of mix ratios.
The dispenser is extremely important to the adhesive dispensing process. A 2-component adhesive can only reach its full potential if constant metering of the correct ratio is ensured. The DSP-50ml double-barrel dispenser is a precision tool that is suited for industrial, professional and DIY use and is very user-friendly.