---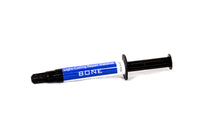 ProCaliber Products™ Plumbing Surface Acrylic Repair 3-GM Syringe - Bone/Light Beige LCA Gel
The perfect product for repairing all types of plumbing fixture surfaces (sinks, bath tubs, shower surrounds, toilets). Utilizes the most advanced Light-Curing Acrylic (LCA) gel technology to completely repair surface damage on virtually any bone/beige colored china, porcelain, fiberglass and acrylic plumbing fixture in a kitchen or bathroom. The micro-gel consistency allows for repairs on all surfaces - flat and vertical - and for larger size chip, nick, crack and gouge damage repair.
With this LCA Gel Syringe (and used with the professional cordless curing lamps), any professional service contractor or technician has the ability to perform the most professional, complete, invisible and permanent repair possible. Each repair can be done in less than 15 minutes and never needs to be revisited again. The time you save utilizing our LCA system will enable you to greatly increase the amount of jobs you can perform and increase the quality and customer satisfaction of each repair.
(1) 3-gram Bone LCA gel repair syringe
(2) Dispensing Micro-Tips
Suitable for bone/light beige porcelain, china, fiberglass and acrylic sink, tub, shower and toilet surfaces. Contains enough material to perform up to 25 small repairs. Use with 72-12-3 Pro blue light curing lamp.