---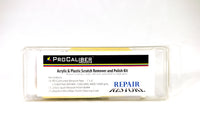 Sale
ProCaliber Products™ LCA & SCA Repair Polish Kit
A premier cleaning, polishing and protecting system for use on Acrylic, Metal, Plastic, Solid Surface, Composite, Ceramic and Fiberglass surfaces. Designed to bring all your ProCaliber Products LCA and SCA repairs to a high gloss, mirror-like finish. It is also versatile enough to be a spot scratch (shallow enough to not be felt with fingernail) and haze remover on a wide variety of surfaces.
Kit Includes:
(1) 1 x 3" Cushioned Abrasive AO 2-Sided Pad - 600/800
(1) 1 x 3" Cushioned Abrasive AO 2-Sided Pad - 1500/2400
(1) 1 x 3" Cushioned Abrasive AO 2-Sided Pad - 4000/12000
(1) .25oz Bottle ProCaliber Liquid Abrasive Polish
(1) Microfiber Cleaning/Polish Cloth
(1) Detailed Instruction Sheet
Key Features of Cushion Abrasive Pads:
Manufactured using a special technology to conform to shapes that conventional sandpaper abrasives cannot. Made with large, uniform abrasive crystals that recede into the flexible matrix as pressure is applied to provide a consistent, level surface with the part being polished. This provides a more brilliant, consistent finish.
The foam core provides extra flexibility and conformity, while being easy to handle and operate. Each pad has a different grade abrasive on each side. Pads can be rinsed, allowed to thoroughly dry, and be stored for further use.
Key Features of Liquid Abrasive Polish:
Suitable for acrylic, plastic, aluminum, stainless steel and all other metals, porcelain, fiberglass, plexiglass, ceramic and solid surfaces.Kit 
Contains 1 micron Aluminum Oxide abrasive crystal in Liquid Polish
Safely cleans, polishes and protects
Approved for use on military aircraft canopies
Water-based formula is safe and environmentally friendly
Provides an incredibly smooth, mirror finish
Use regularly as a cleaner to improve or keep the high gloss finish on your surfaces
.25oz Bottle contains no wax or fillers which can cause yellowing
Great for use with all ProCaliber Products LCA and SCA Repair Material to provide a high-gloss finish